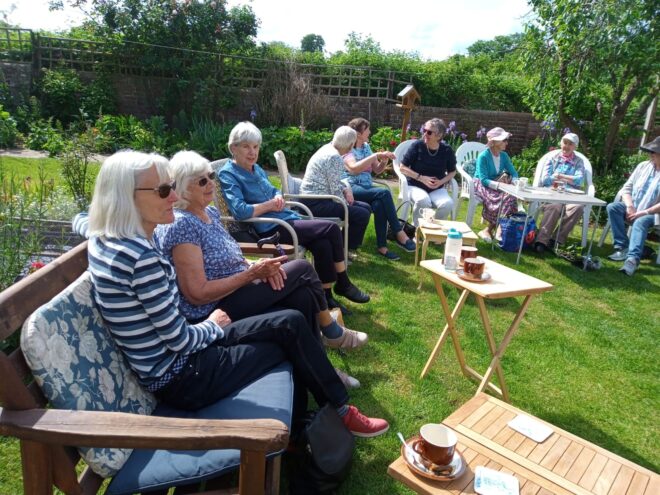 The featured photo, by Jo Wattis, shows our Gardening 1 group enjoying a recent meeting.
---
Monthly Speaker Meeting
14:00 Wednesday, 13th July
Gardeners' Hall, St Leonard's Road, Windsor, SL4 3DR
"The Rhyme of Our Lives – Poetry to Make You Laugh and Cry"
Poetry with Jean Hills
Jean has always loved writing and has had her poems and articles published in magazines and newspapers. She is a regular guest speaker at social events. Jean has three grandchildren and one great grandchild.
Tea and Coffee will be available – Hurrah!
Wednesday, 10th August at 14:00: Bulbs in a Royal Garden with George Lockwood
Wednesday, 14th September at 14:00: Sex Secrets, Scandal and Salacious Gossip of the Royal Court, 1660-1830
---
Message from the Chairman
Think back to the days before email – the phone calls, the documents, and the lead times needed to set up one simple work meeting. But now, at the click of a 'send' button, the job's done, the team is briefed. Just like any organisation, Windsor's u3a has a "team" – in the shape of the Committee – who need briefing and we are looking for someone who can lend a hand with that pivotal process. You would replace our current Business Secretary, Dave Humphries, who is also our website manager. Dave wants to concentrate on developing the website, but he will remain on the committee and so be able to give any help needed to ease his successor into the role. It is largely a liaison role to help organise meetings, some general administration that includes responding to and sharing official incoming correspondence, maintaining records, including minutes of the monthly committee meeting, and a calendar of events. Running the u3a is very much a team effort by the committee and although a knowledge or experience of committee procedures would be useful, they are not vital.
Anyone who would like to discuss the role further, should contact me.
Peter Todd, Chairman Windsor & District u3a. chairman@windsoru3a.org.uk
---
Local Coffee Mornings
Venue visible to logged-in members only
Datchet – 10:30 to 12:00 noon on Wednesday, 27th July
Datchet – 10:30 to 12:00 noon on Wednesday, 24th August
---
Outings and Events
Tuesday, 12th July **: A Luxury Afternoon Tea on the River Thames to celebrate National u3a's 40th Anniversary **
Tuesday, 23rd August: Summer Picnic on Queen Anne's Ride, Windsor Great Park. Details below
Tuesday, 6th September **: A visit to Sandringham to celebrate the Queens' Platinum Jubilee **
** There are now only waiting list places available for these outings
---
Summer Picnic
Meet at 2-00pm on Tuesday, 23rd August at Queen Anne's Ride, Windsor Great Park.
Bring your own picnic and rug or chair. Enjoy socialising with friends and make some new ones.
All welcome, no need to book.
N.B. If the weather is inclement, the picnic will be rescheduled for Tuesday, 30th August.
Please note there are no toilets at this site
Map of exact location is available to logged-in members only
Queries to Kate via membership@windsoru3a.org.uk
---
New Members' Coffee Morning
Monday 1st August, commencing 10-00am
Social Club, Willows Riverside Park, Windsor, SL4 5TS
If you have joined Windsor & District u3a in the last year or so, why not join us for a cup of tea/coffee and hear from several convenors, and meet several committee members.
Map of exact location is available to logged-in members only
Queries to Kate via membership@windsoru3a.org.uk
---
See also
Newsletter Extra – July 2022, containing more members' photos, many of the Jubilee celebrations
The report from the much delayed trip to Oberammergau, with contributions from most attendees.
https://windsoru3a.org.uk/wp-content/uploads/2022/07/Holiday_Oberammergau-and-the-Alpine-Quartet_p1.pdf (pdf)
---
Interest Group News
COVID-19 is still with us, so please be considerate – stay at home if you are feeling unwell or think you may recently have been in contact with someone with COVID.
Explore London 2 group walk from Hammersmith to Barnes
Our Explore London 2 group enjoyed the walk from Hammersmith to Barnes on 16th May.
18 members of the group had a very enjoyable sunny walk from Hammersmith Bridge to Barnes and back on May 16th. We travelled to Hammersmith by bus and then walked along the towpath of the Thames towards Barnes Bridge, taking in the many interesting blue plaque houses and sights on the river and stopped at an old Inn for coffee along the way. Places of interest included William Morris's house, the churchyard where Hogarth is buried and some very grand houses overlooking the river.
At Barnes we crossed the Bridge into the village centre, and most people had lunch on the tranquil green overlooking the pond, at the theatre café, where they were entertained by one of the waiters who was also an actor. The majority of people had a pleasant walk back along the more leafy side of the river, while others rested their legs by catching the bus back to Hammersmith, where the group met up for the return to Windsor on the 702 bus.
Highgate Cemetery with Explore London 2 group
A trip to Highgate on 14th June was attended by 22 people, who travelled there by train and tube to Archway Underground station and then a short walk uphill, through pretty Waterlow Park to the Cemetery.
The weather was glorious but not too hot for walking, especially in the shade of the graveyard. We were given a most informative and enjoyable tour by one the official guides, who is a retired History teacher. He took us around the oldest part of the Cemetery, which was built in 1839 after the city graveyards became overcrowded and a health hazard. The guide pointed out the most interesting and spectacular tombs.
We were even taken inside the normally locked catacombs, where the walls are lined with lead coffins, and there also lurk rare large black spiders (some of us found this more frightening than the coffins!). One notable lead coffin was that of Robert Liston, the first surgeon to use anaesthetic in Europe. However, it was quite a relief to safely leave the catacombs to continue our walk again in the sunshine around the rest of the Cemetery.
One of the most famous tombs in Victorian times was that of Thomas Sayers, a bare knuckle prize fighter, who was the heavyweight champion of England and a major celebrity. Over 10,000 people attended his funeral procession and lined the streets to Highgate. On his tomb is a statue of a large dog which is a life sized replica of his beloved dog, Lion. His grave was the most visited in the 19th century.
Our guide also pointed out the spot where unmarked graves held the bodies of young girls who had died tragically as a result of being forced into prostitution. These graves often held 10 bodies lying on top of each other. This was in contrast to the very grand marble structures constructed for the rich and successful Victorians.
After our tour we returned to Waterlow Park for lunch in the shady café and some of the group went back to look at the other side of the Cemetery which holds the grave of Karl Marx and many other more recent graves, before our return journey home It was a very interesting and enjoyable trip and one we would consider repeating again next year.
Shelagh Irish
Holland Park on 14th July. Our next trip is to Holland Park on 14th July.
Contact details visible to logged-in members only
---
Local History
Monday, 25th July: George Fussey will tell us about the natural history of Eton College. He is the curator of its natural history museum. Sessions are in Alma Road Methodist Church Hall, Windsor SL4 3HH and start at 2-30pm. Sessions cost £3.00, payable at the door to cover speakers, room hire and refreshments. This is an open meeting. There is no need to book.
Jane Standley
---
Gardening 1
On a beautiful sunny day in May, the Gardening 1 group held a "plant swap" meeting in a member's garden. 24 members came along with a wonderful selection of plants. There were lots of perennial and annual flowers and also fruit and vegetables. A very enjoyable and sociable afternoon which included a fantastic selection of cakes.
Plant swap
Open Garden at Monks Lantern, Chertsey
On 16th June, the group visited Monks Lantern in Chertsey, where the lady of the house had opened her garden for us to view. Built from scratch, it had been a lawn when she moved in. She is the avid gardener though over the years, both she and her husband have both taken cuttings and brought home seeds from places around the world that they have visited. Her husband particularly likes cacti and has built up a collection. In the garden they keep canaries in an aviary. I loved the pond. Their children used to swim in it and she told us she had fallen in several times while tending overarching climbing plants, such as wisteria. Another fascinating feature was a tree trained into the shape of an umbrella to provide an area of shade over the lawn. Jo Wattis
---
Italian
Both Italian group, 'Improvers' and 'Conversation' are cancelled in July as their convenor will be on holiday. Ornella Mohan
---
Tea and Jazz
Tea and Jazz will take place on Tuesday, 26th July at 2-00 pm in Datchet Village Hall. Frank Tarrant will present a video feature on Gershwin. This will be very entertaining with some great tunes and jazz vocals. There will be an entrance charge of £5.00 to cover the hire of the hall and refreshments. In the holiday month of August Tea and Jazz will be taking a break. The next meeting will be on Tuesday, 27th September and we are hoping to present more live jazz this Autumn. There is plenty of parking and the hall is only a short walk from Datchet railway station.
---
Walking Group
July walk on Friday, 22nd July will be based on Boveney Brook and the Jubilee River. Possible coffee stop at the Palmers Arms in Dorney. It will be led by Roy who is still on the hunt for more leaders with their favourite walks.
Contact details and starting point visible to logged-in members only
---
u3a Online Links
Remember to check out u3a online: lots of interest to be found…
Thames Valley Network (TVN) Study Days http://u3atvnetwork.org.uk/
Trust u3a Interest Groups Trust u3a Home (u3asites.org.uk)
---
Thank you
Thank you to all who have contributed to this month's newsletter.
The copy-date for the August Newsletter is July 10th due to holidays.
Jackie Wiggins
---
Committee Contact Details
Simply rotate your screen horizontal to see full width of table.